Pets & News
ODIE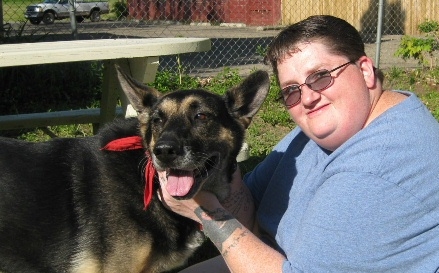 NEVER TOO OLD TO FIND A LOVING HOME

Linda Botens, the Dog Control Officer in the Cuba area received a report on an injured dog that had come up on the caller's porch. Because of the suspected injury, Linda called us for assistance in picking him up. When we arrived we found a very skinny, weak but friendly black and tan male German Shepherd, it was clear he was not injured but in need of some help. We loaded him up and off to the shelter he went.

Once at the shelter we were able to closer exam him, he has extremely enlarge testes, his gums were pale, his coat in need of help and his nails were extremely long. He was also infested with fleas, so it was off to the bath to combat the flea problem. As the days went on he gained weight, was always happy to see the staff, loved his treats, He was a spoiled boy! Then came time to get Odie neutered, we found out he has cancer of the testes and the vet also told us he was 8 plus years, had arthritis and dental problems. Well we had come this far so we were going further. We went ahead with the surgery, did chemo and Odie did very well. This guy was a fighter! Once he was cleared he was put up for adoption, but we were worried, who would adopt this 8 plus year old dog with so many problems!

Well on 2/15/09 a very kind lady came to our shelter and she wanted Odie. He was so excited to be going home. We want to thank Nellie Miller for adopting a dog who no one wanted. She saw in him, what we, here at the shelter, saw in him. A great dog, very friendly, lovable and just wanting someone to call his own.