Pets & News
RUDY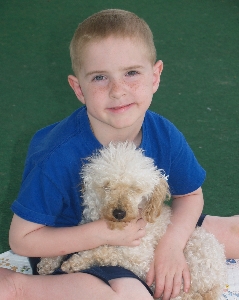 A WAGGING TAIL IS A HAPPY TALE

When we received Rudy at the shelter he was severely matted, full of dirt and feces and had to be bathed 5 times before we could get him cleaned and he also had an injured leg. Fortunately, the new owner offered to adopt him as is and got him the help he needed. They also are happy to keep us updated on how he is fitting in with their family. Looks pretty cozy doesn't he?

Here's what his new owner has to say about him: In January I adopted the adorable apricot poodle named Rudy. Rudy was in pretty rough shape but he is doing wonderful now. He had a previously broken leg that had not been treated. Unfortunately, soon after we adopted him, he broke his other front leg (the vet said that he was overcompensating with that leg because of the other injured one). As a result, Rudy had casts on both front legs for approximately 6 weeks.

He is now doing wonderful. He runs through the yard and plays with our other dogs and cats. In addition, he has gained some weight (he's up to 7 ˝ pounds now) and has seen the groomer a few times. We feel very lucky to have him!