Pets & News
LUCKY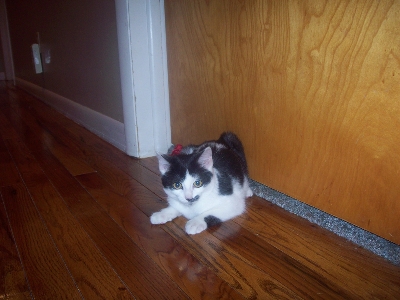 Lucky the Kitten with 9 lives

Kent Johnson heard a soft meowing sound as he was home working in his garage, not sure where this faint noise was coming from, he then found a very small black and white kitten behind their heater in the garage that appeared to be dead, eyes glazed over and lifeless. He called his wife to tell her what had happened he then went to pick this poor little gal up and much to his surprise she meowed – she was somehow still alive. Not knowing what to do he put her in a small box with a blanket to warm her and he tried to give her a few drops of milk that just rolled out of her mouth.

The SPCA was contacted and this little kitten was brought up to the shelter. Our vet tech Emily Starr, immediately went to work to help this dying kitten – she could not even pick up her head, just a faint meow from time to time and her eyes were still glazed over with an empty stare. She was dying from starvation and the cold. They kept her warm with a heating pad and just went hour by hour, at the end of the day they were finally making a little progress and seeing a small hope of life. By the next morning she could lift her head, each day proved to be a challenge, but this little kitten wanted to live! Lucky has been adopted by the same people who found her at death's door that cold morning – Thank you Sheri & Kent Johnson.