Pets & News
The Quilt and the Bluetick - TWILA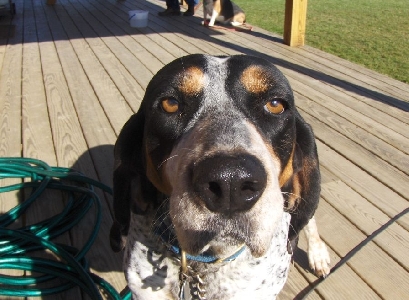 I am so happy to donate this quilt to the SPCA Serving Allegany County. My husband and I adopted Twila, a Bluetick Coonhound, from the SPCA several years ago. Twila's story is typical of the loving care that all dogs find at the shelter in Wellsville. Twi had been adopted once from the SPCA but was returned when her first adopter realized that Twila was gun-shy and would not hunt. She lingered in the shelter for another full year until we came along. In that time, Twila received such excellent care. Her volunteers walked her, talked to her, and petted her daily. When we adopted her, she was so well socialized that she fit into our two-person, two-dog family instantly. Our nickname for her is "The Diva" because of her particular way of demanding a Milkbone. We can say with confidence that The Diva is pleased with her new home, and we love her immeasurably. She is, as we like to say, "speckle-tacular."

It may seem odd to link a Bluetick hound with an intricately patterned quilt, but there is a connection. I bid on this quilt at an Amish relief auction in Addison, NY, in the spring of 2011. It was stitched in Transit Bridge, NY, especially for this event which was run entirely by the Amish. I had no intention of bidding on a quilt that day, but when this one came up, it was so breathtaking that I couldn't help but bid. I set a mental limit on the dollar amount. Evidently, it was the same limit that the back bidder set, too. The bidding was intense, and I got caught up in the excitement. I found out later that the guys helping the auctioneer work the crowd are called "sweet talkers." Yes, they definitely sweet talked me! I arrived home with a beautiful, hand-made quilt that I just cannot use.

I realized that a quilt of such beauty and value deserved a space that I couldn't provide. I could sell it on eBay or Craig's List, but I want the quilt to go to a home where it is loved and appreciated -- just as Twila is loved and appreciated.

If you are lucky enough to get this quilt for the price of a raffle ticket, you are getting an invaluable bargain. We hope that you will "pay it forward" by donating to the SPCA Serving Allegany County and that the quilt will become a treasured family heirloom.

Thank you for supporting Twila and the many dogs like her.