Serving Animals and People in Allegany County of New York
The SPCA's mission is to attend to the needs of the abandoned, neglected, and abused companion animals of Allegany County. Change is constant at the SPCA shelter. Animals in great need of care and compassion continually arrive as others are adopted out into their forever homes. The furry faces may change, but the need never goes away.
2022 FUNDRAISING EVENTS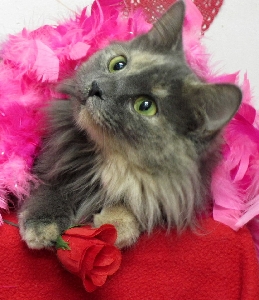 Our annual PAWPRINTS Newsletter is hot off the press and is now available to read online, just click here to download PAWPRINTS WINTER NEWSLETTER 2022

FEBRUARY 2022 - SHOW THE SPCA SOME LOVE The whole month of February you can donate $14.00 to sponsor toys or treats for a SPCA dog or cat OR you can donate $14.00 in honor of or in memory of one of your pets or a loved one. We have heart shaped cards we can fill out for you and we will hang them at the shelter in the lobby. If you are interested in adopting a cat or dog over the Valentines Day weekend....just sing us a LOVE SONG and we will take $25 off the adoption fee!!
If you would like to donate $14.00 to SHOW THE SPCA SOME LOVE, just click on the PAYPAL link below:

NEW SHELTER NEWS: "SNIP AND SPAY SPCA"
Our new shelter's SPAY NEUTER CLINIC IS OPEN! We are happy to report that we have gradually opened our Clinic doors in 2020 and in 2021 we have increased our days of operation to 3 days per week, on Monday, Tuesday and Thursdays. If you are interested in having your cat or dog to be spayed or neutered and have questions please email us at SnipandSpaySPCA@gmail.com to obtain more information. Please download and submit your application SNIP & SPAY CLINIC APPLICATION
The construction of our Spay/Neuter clinic was made possible by the ASPCA's NY State Animal Population Control Program grant. We received $100,000 grant in 2015, along with a donor match to start building the clinic. In 2017 we were approved for another $204,932 to complete the interior construction of the clinic along with outfitting the clinic with the surgical equipment needed. Our clinic has been critical in helping to control the animal population in Allegany County. Special thanks to the ASPCA and to all of our donors who have helped to make this happen!
HELP SUPPORT THE SPCA BY DONATING
Remember you can still support the SPCA right from home...if you would like to make a donation to help out our furry friends, we have a donate button on our Facebook page OR you can donate from our PayPal link: Just click on the PAYPAL link below:

ADOPTION
Remember it's a life changing EVENT to adopt an animal from the SPCA!!! If you are interested in ADOPTING any of our animals - Please submit your application
ADOPTION APPLICATION
You can submit your application through email
SPCAallegany@gmail.com
or you can mail it to us at P.O. Box 181, Belmont, NY. An approved application is required to meet/adopt an animal from our shelter. THANK YOU!!!
...download>>