PET OF THE WEEK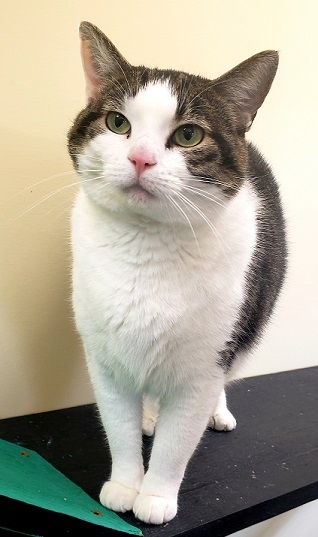 DIXIE



Meet DIXIE - Curvy Southern belle looking for refined gentleman to provide me with the attention and comfortable home that l deserve. Must be willing to put up with my sassy attitude and respect the fact that l make the rules in our home and he will abide by them. Must understand l am to be the only pampered feline, I will not tolerate any competition for affection. Please respond if you think we're a match. CALL 585-593-2200 or E-MAIL SPCAallegany@gmail.com us to find out more about all of our lovable dogs and cats available for adoption
---
Serving Animals and People in
Allegany County of New York
The SPCA's mission is to attend to the needs of the abandoned, neglected, and abused companion animals of Allegany County. Change is constant at the SPCA shelter. Animals in great need of care and compassion continually arrive as others are adopted out into their forever homes. The furry faces may change, but the need never goes away.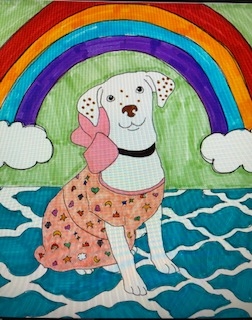 APRIL IS PREVENTION OF CRUELTY TO ANIMALS Month. Normally we would be selling our PAWPRINTS for a $1.00 donation at various stores and restaurants around our county, but due to COVID-19 virus we are unable to sell the PAWPRINTS. We instead have made a post on our Facebook page and if you would like to donate you can either donate from our Facebook page or from the PayPal link: To donate via PAYPAL, just click on the PAYPAL link below:


SPCA Monet or Pre-K ARTWORK fundraiser
We hope everyone is staying healthy! We at the SPCA are trying to come up with some new ideas for fundraising and we just embarked on this fundraiser through our Facebook page.
So, lets have some "fun" with fundraising! Donate $15 and a member of our staff will draw your pet! You might get a Monet, or you might get something from a Pre-K art show- let's be honest, our talents are in animal care, not art work!
With everything that has been happening in recent times, we have had to come up with creative ways to continue to support our mission while practicing social distancing and keeping our staff and community safe. Your donation goes directly to helping us continue to provide care for the animals in our shelter.
HOW TO ENTER:
Make your $15 donation using the donate button our Facebook page, or our PayPal link on our web page www.spcaallegany.org, then email a copy of your donation receipt and a picture of your pet that you would like us to re-create to
SPCAallegany@gmail.com
. We will post the original photo and our completed masterpieces on our Facebook page for all to enjoy!!
To check out some of our fine art-work click this link:
Pet Pic Artwork
Thank you for your support of your furry friends at the SPCA Serving Allegany County!
SPECIAL NOTICE:
In an effort to help reduce the risk and spread of COVID-19 virus, the SPCA Serving Allegany County will be
closed
to the public except by APPOINTMENT until further notice.
If you are interested in meeting one of our adoptable pets we ask that you start the process by submitting an adoption application via email, applications are available on our website. Once your application has been reviewed we will then contact you to schedule a meet and greet. We will be asking that you limit the people who come with you for the meet and greet to household members only who will be interacting with the pet. If you become ill, or a member of your household becomes ill, please contact us to cancel your appointment.
If you are fostering an animal and have questions or concerns, or you have questions about an animal you have adopted from us, please contact us via phone 585-593-2200 or email us at
SPCAallegany@gmail.com
. Your call or email will be returned within 24 hours. We will also be monitoring and responding to Facebook messages during this time.
All inquiries about surrendering a pet can be made via phone or email. At this time we are not accepting new volunteers or providing community service opportunities. We will however continue utilizing our already established volunteers.
If you need to report an animal cruelty case, please call the cruelty hotline which is answered 24/7 just call 585-268-9600.
We will continue to provide updates as the situation changes. Please feel free to contact us with any questions or concerns. We hope to be back to normal soon! Be safe, stay healthy!!
Our 2020 Winter newsletter is available! Click here to read our
Winter 2020 Newsletter
FUNDRAISING UPCOMING EVENTS:
Unfortunately, our upcoming spring Fundraisers are on hold due to the COVID-19 virus. We will keep everyone posted via our website and Facebook page as to the scheduling of our events. If anyone has ideas for new ways to fundraise, please contact us by calling 585-593-2200 and press option 2 or email us at SPCAallegany@gmail.com -


Donations can be made via PAYPAL or donations can be mailed to SPCA Serving Allegany County, P.O. Box 381, Wellsville, NY 14895. Thank you for caring and for supporting our mission to help provide shelter, food, medical care for these animals in need. To donate via PAYPAL, just click on the PAYPAL link below:

NEW SHELTER NEWS:  "GIVE ME SHELTER"
Our new shelter is FINALLY done and we have moved all the animals to our new shelter!! We are happy to report that we have opened our doors on February 23rd 2019. And our GRAND OPENING was June 1st, 2019!  In 2020 we will be having a celebration in June to celebrate our 1st year in our new shelter.
The shelter building has been designed by Clark Patterson Lee from Olean using the latest shelter design techniques, including sound mitigation, energy efficiency, air exchange and sanitation. We also worked with Animal Arts in Colorado to assist in the layout and flow of the building. Kinley Corp from Allegany NY constructed our state of art facility. Improved systems will make the building more comfortable for volunteers, visitors, and our resident animals. In addition, the SPCA has incorporated "green" building strategies to minimize environmental impacts and increase efficiency, such as geo-thermal for our heating and cooling and solar arrays.  We have chosen to construct the new shelter out of ICF (insulated concrete forms) - comprised of styrofoam inner and outer walls and concrete poured inside the walls which not only has a high R-value, but it also will act as a sound barrier. Our goal is to reduce the stress on the animals and to provide a healthier environment and to focus on enrichment and socialization activities for the animals in our care
This has been all made possible by our donors, bequests and several grants.  The construction of our Low Income Spay/Neuter clinic was made possible by the ASPCA's NY State Animal Population Control Program grant.  We received $100,000 in 2015 to start the clinic and in 2017 we have been approved for another $204,932 to complete the interior construction of the clinic along with outfitting the clinic with the surgical equipment needed.  The Spay/Neuter clinic is critical in helping to control the animal population in Allegany County.  We also received another grant from the Pedigree Foundation for $10,000 from their Program Development Grants for our indoor Dog Exercise Arena.  These funds are being used to help to complete the indoor Dog Arena.  The goal is to reduce the stress on our dogs by giving them the opportunity to have some out of the kennel time for exercise and play-time in the arena...thus helping them become more adoptable.  A special THANK YOU to the ASPCA, Pedigree Foundation, Bertha Hamilton Foundation & Newman's Own....and let's not forget all of our donors who have made this vision and dream possible. Our NEW home is located at 5440 State Route 19 in Belmont, NY 14813.
...download>>